We're at of the end of April in the year that has been a thousand-year blink. It is a vast expanse of time that has vanished between breaths. I see the work I have done over the last few months and think, "Wow, I made that so long ago." Only, upon checking posting dates and timestamps, I discover a week, or maybe two, has passed. The months have become emotionally heavy.
At least, that is how it feels to me.
What has it been like for you?
How are you holding up?
April 6-10
During this week, I attempted the One Week Portrait Challenge, run by Paintable. I was excited to give it a shot and posted daily results my Ko-fi page, Instagram, and Twitter. If you missed my detailed post on it, that can be found here.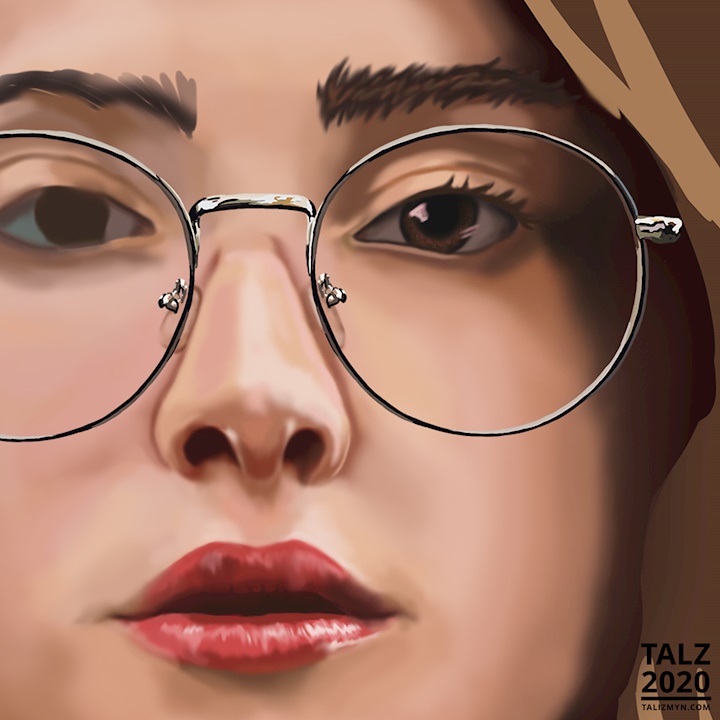 This was the week my Samsung Galaxy Tab 3 gave up, and I had to attempt the rest of the challenge using PC and mouse. I did not finish because of this, but do plan on giving digital portrait painting another shot this year.
Here's Friday's result.
April 23
Now that I have been getting support through Ko-fi, commissions, and my husband is able to work some even during the pandemic, I'm fortunate enough to be able to change my Ko-fi goal.
To continue to improve and become more efficient in my work, I have had my eye on Clip Studio Paint for some time. My goal has been updated to reflect the plan to purchase Clip Studio Paint Ex, for $219 USD. I would prefer to purchase the program outright, rather than pay a monthly subscription, as I'm not a fan of the subscription model for using programs.
The program itself has some impressive features including a variety of functions designed for comic-creation, smart colouring tools, precision rulers, and comes with an impressive library of brushes, poses, and other resources. Given all that the program offers, and with the potential to increase my workflow and improve my abilities, the cost of the program seems more than reasonable. That's not to say I won't be keeping an eye out for a sale, though!
Want to help me reach my goal?
April 28
"Let us make our future now, and let us make our dreams tomorrow's reality."

Malala Yousafzai
Earlier this month my mother-in-law commissioned me to create two images for her, of the irises found in her garden. While I have begun drawing flowers more often these last few months, irises were not in my portfolio just yet.
I can now say: these flowers are complex! I enjoyed the process of studying them and experimenting with creating the right look, and learned far more about irises than I ever thought I would. This commission was created using Adobe Fresco and making use of the live Watercolour Brush for some interesting effects!
APril 29
I'm jumping on this Art vs. Artist 2020 bandwagon, and posting some recent work, along with a photo of me. (Hi!) Technically one of these is from 2019, and the another is a work-in-progress… but I'm going to say it still counts. I can always do another later in the year, after all.
---
April 2020 SUPPORTER REWARDS ARE UP ON KO-FI
April 2020 Supporter Rewards are now on ko-fi! This month's rewards include a two items: colouring page which can be coloured digitally or traditionally and, as with all of my colouring pages, I'll feature completed ones on my blog. The second item is a background featuring my work from earlier this year. The size of the background is 1920 x 1080, but if you prefer another size for your PC or device, just let me know and I'll prepare that for you. 😀
These rewards are a thank-you from me. I appreciate every one that is able to support my work, and this is one of the ways I want to give back. If there's something else you'd like to see, please do let me know!
Be That As It ('s ALmost) May
There are a few projects in the works for next month, plus a surprise that I'll be announcing in a day or two. Keep a lookout!
Raffle Prize Winners
The winners for my raffle have been selected, and I have all the information I need from each to get to work on their respective prizes. Congratulations, all three of you!
I'm excited to get started on the characters and to have new work to show off later this month. (These are really interesting characters, too!)
Works in Progress
There are a handful of works in progress that supporters on Ko-fi will have seen this last month. As usual, believing I can do far more than I have the mental capacity for during a pandemic, I thought I would complete all of these already. Alas, not so.
Still, a fair amount of progress was made overall. I did manage my time well, considering there were commissions to do this month, and really there's no rush on these personal projects.
I have the time.
---