The last two months have been busy for me, so there has not been much in the way of content going up here. It's the kind of busy-ness that's productive, but doesn't offer much to show for it in the short-term.
For those who keep up with my devientART Gallery, you will have seen a few designs popping up in the last month or so. That's a small portion of what has been going on around here. I have much to show you!
Website: Tali Gibson Designs LLC
In July, my husband started up a business, Tali Gibson Designs LLC. Since then, we have been working on creating content for the website to showcase examples of the services we offer through the company. Being a new and small company, I'm both Graphic Designer, Website Administrator, Social Network Admin, and Whatever-Else-We-Happen-To-Need.
Here's a preview!
It uses the Natural theme by Organic Themes, with some modifications. I loved the earthy feel of it, and it offered a decent amount of customization to suit our needs.
It's fun as it lets me practice and experiment with WordPress more than I have in the past. And I get to not-so-subtly sneak in my own photographs rather than use stock photography. Why not, right? 😎
I'm looking forward to taking my WordPress capabilities to another level, too. Designing a full website, rather than modifying preexisting templates, will be much more interesting. In the meantime, I am pleased with out the current version is turning out.
But I am already forming plans for the next version.
Udemy: Adobe Creative Cloud
My formal design training happened over a decade ago, (Let's not dwell on this) and at the time I learned the CS4 version of the Adobe Creative Suite. A number of years ago, to touch up my skills, I spent a fair amount of time reviewing tutorials on Youtube to get a better understanding of Photoshop, Illustrator, and InDesign and ensure I wasn't missing too much. Shortly after that, I got a full-time position as a Graphic Designer in Toronto and spent my time using InDesign and Illustrator (CS6) on a daily basis.
During my time in the office, the Creative Cloud (CC) version of Adobe products became more and more prominent, but there was no need to switch over to a subscription just yet.
This year, after a fair amount of consideration, I realized I had waited too long to upgrade and was allowing my skills to lag behind others in my field. I knew there were so many things other designers and photographers could do using CC that I was missing out on, or would be less efficient doing if I insisted on staying with CS6. I was missing key skills in CC products and the knowledge of how to use the latest version of the programs. I just didn't know what those skills were, exactly.
No time but the present to fix it.
I have known about Udemy for years now, and have purchased courses before. I saw an ad come up while procrastinating on social media this summer that there was a sale on courses, $14.99 each for a limited time. (As is Udemy's business model: the sale price is the regular price.)
I found a set of Adobe Creative Cloud courses by Daniel Scott, and his lectures caught my eye with the sheer amount of information of what was offered. I loved the idea of using the tools in a real way, for projects I could use in a portfolio, rather than some of the dry tutorials I have seen on Youtube than simply describe what each tool does in a program.
My first choice was the Adobe Photoshop CC – Essentials Training Course, which I would recommend (and have done so on Udemy's review system). The lecturer, Daniel Scott, is incredibly knowledgeable and the course was interesting and fun.
Dress Decay Magazine Cover
Resource: Original photo by Daria Rem from Pexels.
Immediately after finishing up the course, another sale was going on and I picked up the Advanced Photoshop CC course. There was a bit of repetition between the two courses, which is to be expected, and overall I found it worth both my time and money. I have started the Illustrator Essentials course, with plans to do the InDesign Essentials and Advanced courses following that.
Dancer Poster
Resources:
Forest photo by Northwoods Murphy from Pexels.
Dancer photo by Ana Bregantin from Pexels.
So far, it has been a productive journey. I have a bunch of different projects created, some for the course and some not, and new skills to continue to hone. I knew a fair bit of the workings of Photoshop, but CC really is a vast change from CS6. I am glad I have been taking the time to learn what's changed. I expect Illustrator and InDesign will bring equal surprises.
And to be clear, I have no affiliation with Udemy or Daniel Scott. I simply used the service Udemy provides, and enjoy Daniel Scott's courses. I do want more people to check his courses out though! It's important to pay creators (teachers, artists, musicians, whatever) for their work and encourage them to create more awesome things.
But here I am getting distracted… 😳
Photography: Editing
After an unreasonable hiatus from Photography, I can now say I have picked it up again and am truly enjoying taking photographs. Burnout is a terrible thing. Let's all avoid burning that candle at both ends, alright?
That's my goal.
Another benefit from creating assignments for Udemy courses is getting ideas for something personal and fun. For me, one of those things is creating something fantastical, and aim to get it to look as realistic as possible.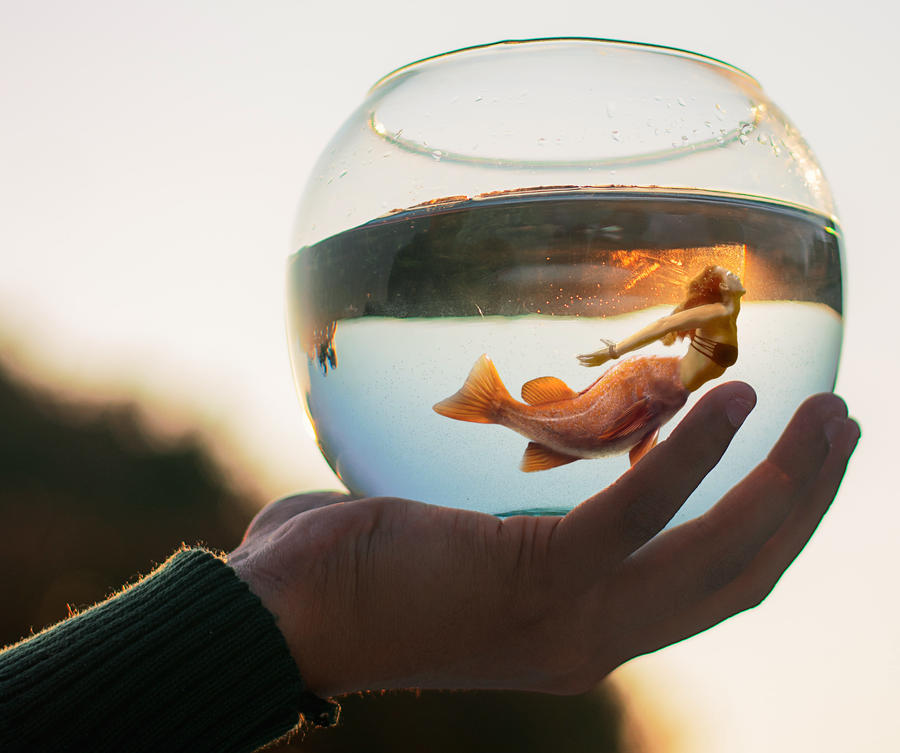 Mermaid in a Fishbowl
Resources:
Fish photo by Claudio Guglieri.
Fish bowl photo by Alan Cabello from Pexels.
Swimmer photo by Federico Sironi.
The image above came from the realization that I could. So I went on a search through the websites Pexels and Unsplash, which have images available for commercial use for free, to find some images that would fit with what I had in mind.
I chose a few different options that appeared they could work together. But, the only way to know for certain would be to give it a shot. (This process has a fair bit of trial-and-error, and if we're lucky, less of the latter.)
It was good to practice masking, blending, adjustment layers and warping images in a way I hadn't combined the skills before. The final result turned out better than I expected, and I'm glad I had success in altering the colours of the swimmer image to fit in with the fish and bowl as well as it has.
Sure, it's not perfect… but it's pretty good if I do say so myself. 😉
---
Are there Udemy courses you have taken and enjoyed (or didn't)? What ones are you looking forward to trying out? Do you have any comments about what you see here? Is there something you would like to see more of?
I would love to hear from you! ⭐